Looking for fun and creative projects to make?
Look no further than this easy flower craft made out of colorful cupcake liners and sticks. This simple and inexpensive project is perfect for adults and even older kids, like teenagers, who are looking for a way to pass the time at home. With just a few supplies and a little bit of imagination, you can create a beautiful bouquet of flowers that can be used as colorful home decor, a vibrant party centerpiece, or even a holiday themed display.
I was really impressed at how the combination of sticks and cleverly cut cupcake liners looked on my entry table. To be honest, a lot of crafts end up in the trash eventually, because although they are fun to make, I'm usually not proud enough to display them in the house. This lovely project turned out to be the exception.
Arrange them in a container of your choice, and you'll have a vibrant and eye-catching accent for any table. 🙂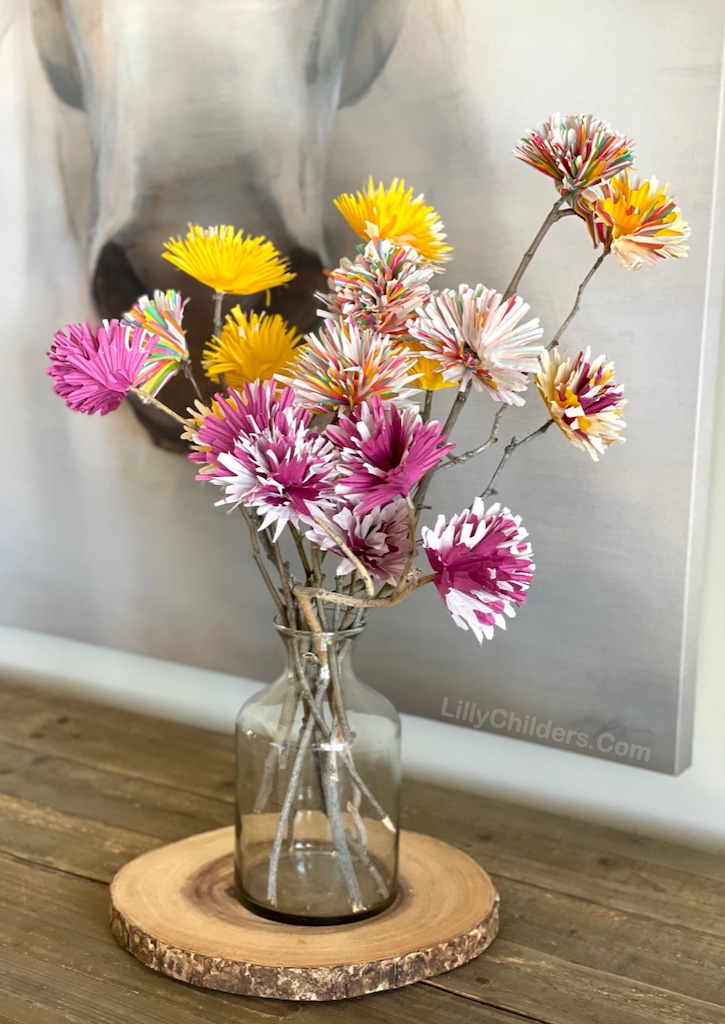 I love the idea of using these paper flowers as home decor, but they would also make for a lovely homemade party decoration! I can imagine them being used as a centerpiece for a baby shower, bridal shower, birthday party, graduation, or any holiday. Simply theme them with the right colors to match the special occasion.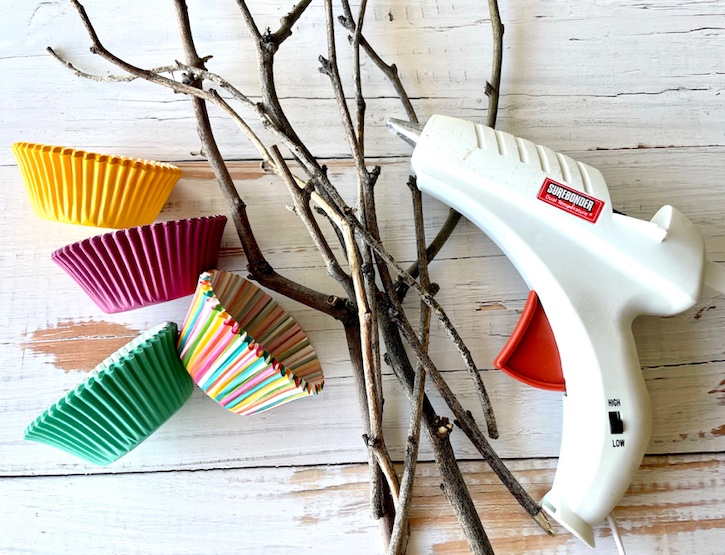 To make these delightful paper flowers, you'll need a variety of colorful cupcake liners in different colors and patterns. You can easily find these at your local grocery store. You'll also need to gather some sticks from your yard or local park– a nice opportunity to go for a little nature hunt! I found a few caterpillars on mine.
Supplies Needed
A variety of colorful cupcake liners
several sticks or wooden skewers
hot glue gun
scissors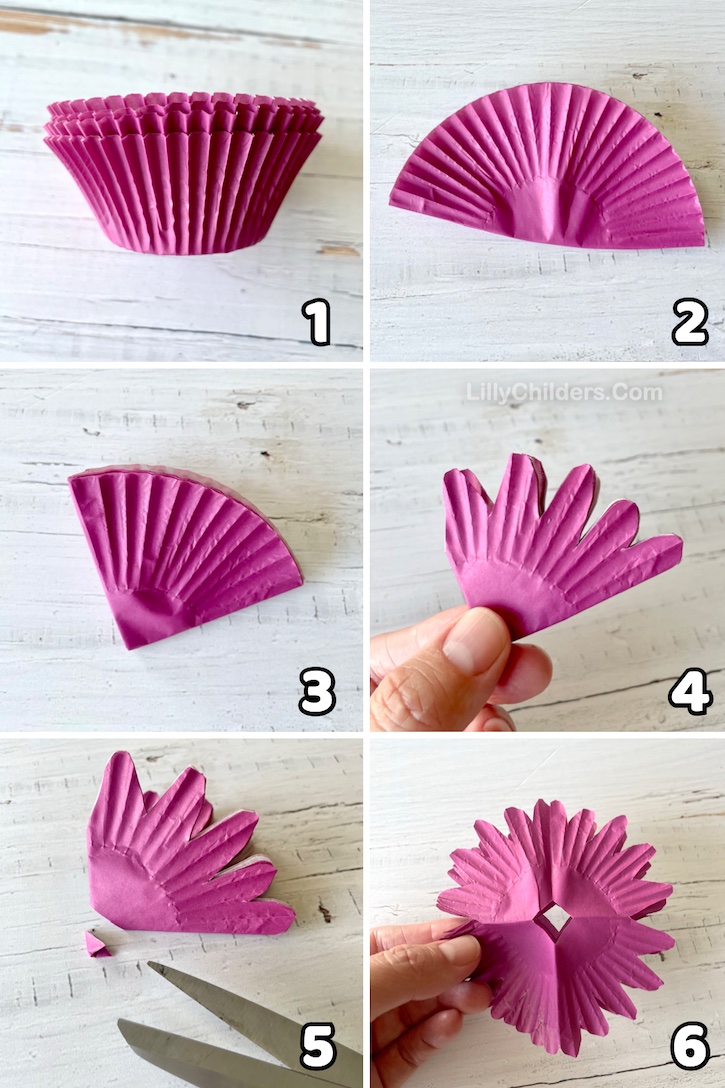 STEP ONE
Using FOUR cupcake liners at a time, fold and cut them following the pictorial above. You're basically just folding the liners in half, and then in half again to create a small fan. Next, cut patterns on the long, round edge like you would a paper snowflake. You can do this however you'd like with curvy or straight lines (I did a variety of both).
You'll also want to cut a small chunk off the pointy end to create a hole large enough to allow them to easily to slide onto your sticks.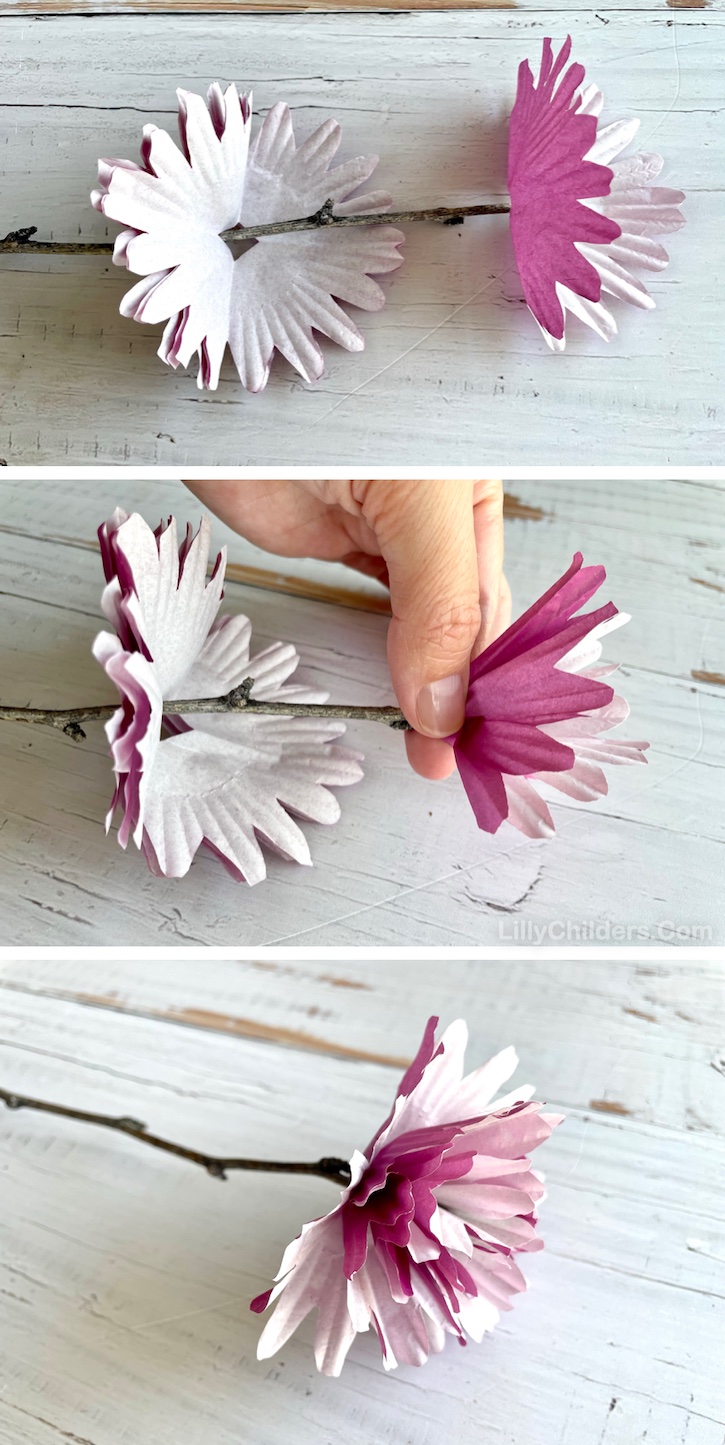 STEP TWO
Loop the liners onto the end of a stick, and then one cupcake liner at a time, hot glue the bases down, pinching them together to create what looks like a flower.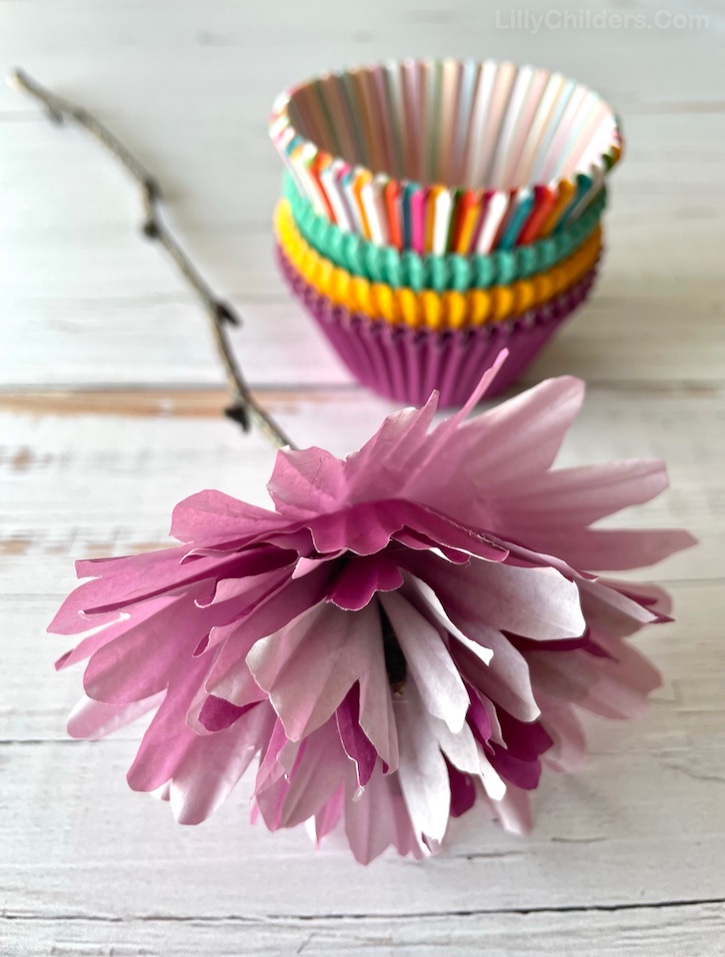 STEP THREE
Once all the cupcake liners are attached to the sticks, your bouquet of flowers is complete! Arrange them in a vase or container of your choice, and you'll have a vibrant and eye-catching centerpiece for any table. Alternatively, you can display them on an entry table, coffee table, kitchen island or fireplace mantel to add a pop of color to your home decor.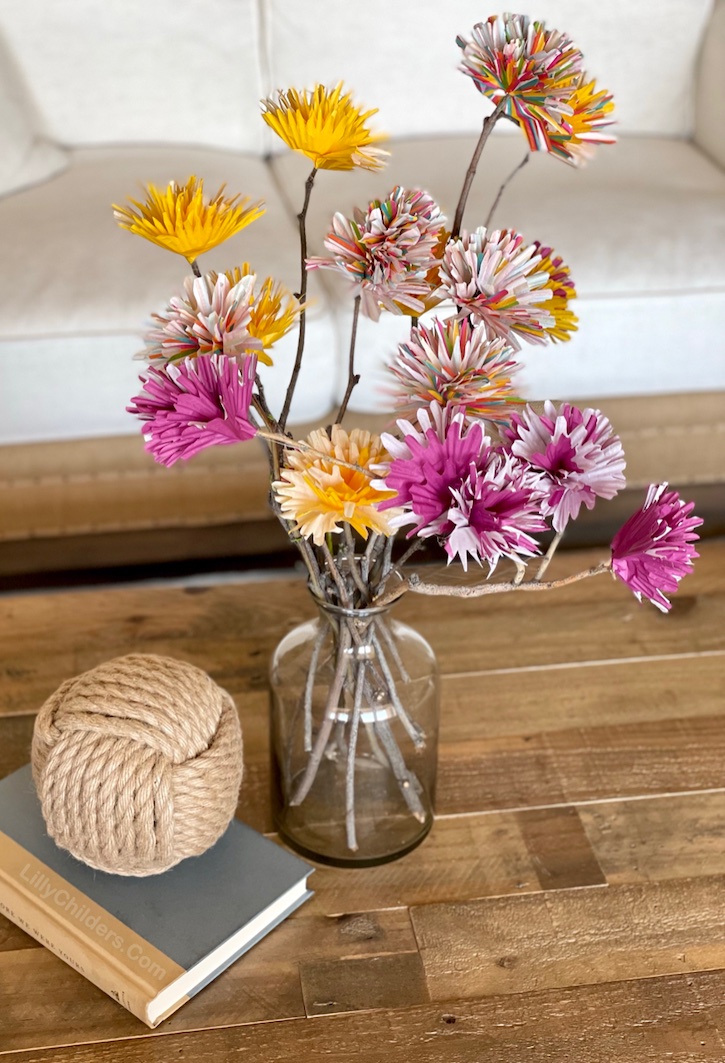 HELPFUL TIPS
I recommend cutting no more than FOUR cupcake liners at a time because anything more than that is difficult to cut. However, this is the minimum you'll need to create a full, nice-looking flower.
Get creative and try mixing different colors and patterns of cupcake liners into a single flower.
I chose sticks from my yard that had several end points, so some of my sticks had 2 or 3 flowers attached to each one. I think this made for a more realistic looking bouquet! It also looks attractive to use sticks in a variety of lengths with irregular curves.
You could optionally add embellishments to these flowers such as glitter or ribbon, or even dab on some craft paint for added texture and color.
After making this project, I was thinking it would have been nice if I had added some leafy green colored cupcake liners to the mix. You could pinch them together and randomly glue them along the sticks to construct something that resembles foliage.
In addition to home decor, these paper flowers would be beautiful as a party decoration displayed as a centerpiece for just about any occasion. Simply choose colors that are fitting to the holiday or party theme.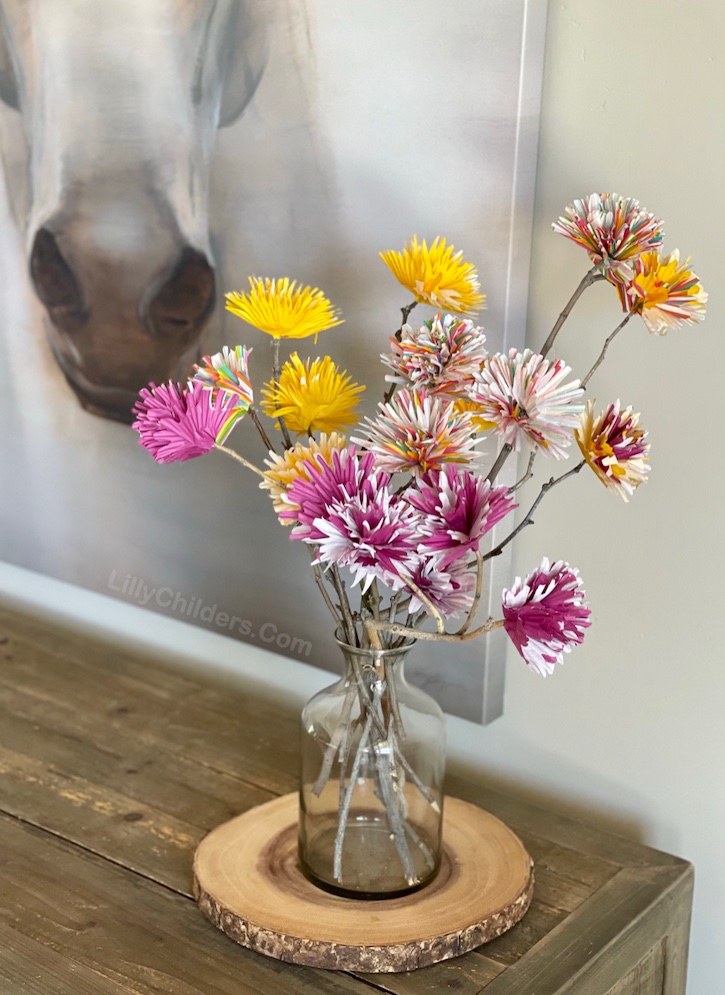 Follow me on Pinterest for more easy craft ideas like this!