I might have a small obsession with tiered stands. Not only are they great for keeping small things organized on your countertops, they're also perfect for decorating a lonely space. I have one in my kitchen for fresh fruit and veggies as well as one for small plates, bowls, and cups that get used often.
They are also ideal for bathroom countertops! The rectangular style trays take up hardly any counter space at all yet can easily hold a box of tissue, washcloths, hand lotion, q-tips and a few other bathroom essentials.
You can also simply use them as a charming home decoration for holiday displays, a coffee bar, table centerpiece, or to showcase small home decorations or trinkets.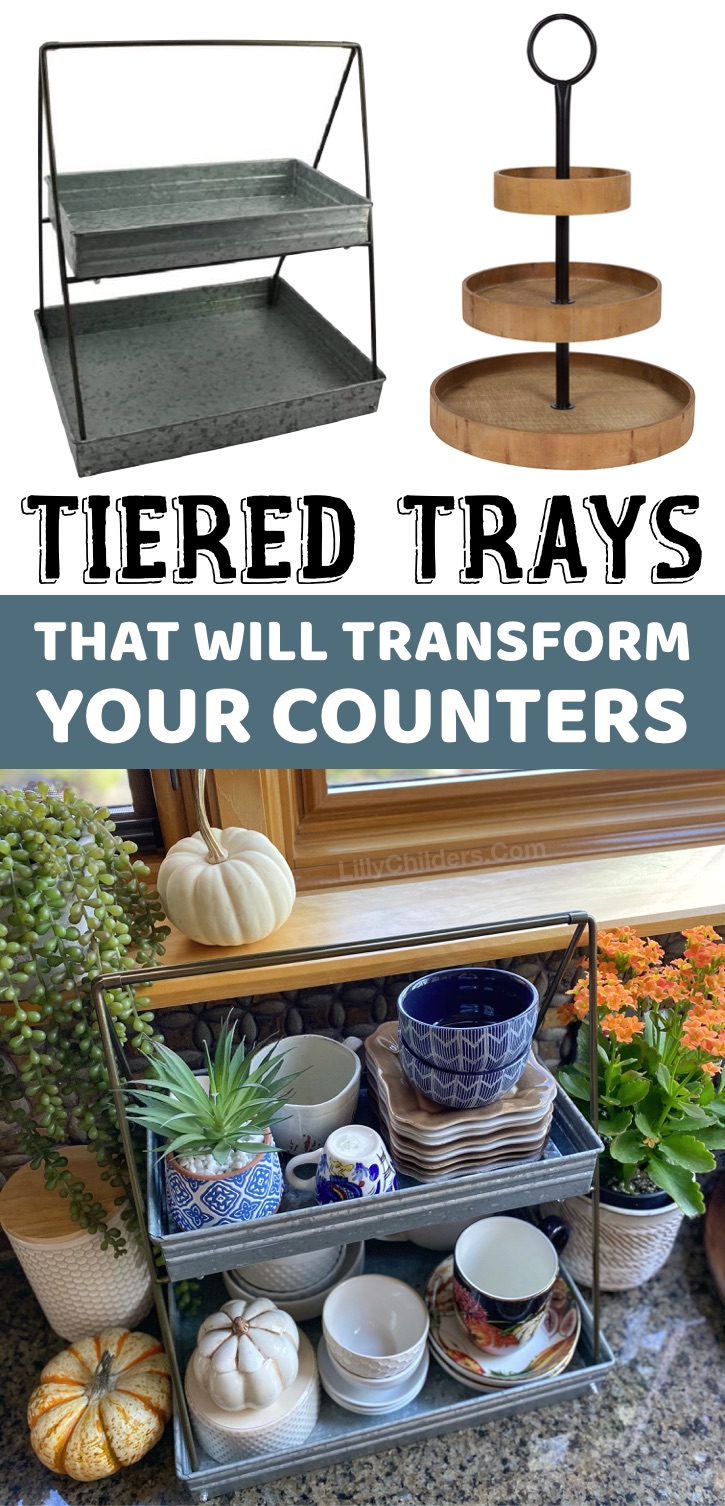 Tiered Tray Decorating Tips
Make sure to measure! If you have a plan for the items you will be placing on your tray, measure the items to see how well they will fit. Also, read the detailed measurements of the tray itself to ensure that it fits in your space before purchasing.
Choose a shape that compliments your space. Round tiered trays are perfect for table and island centerpieces as well as large corners, while square or rectangular trays work best resting up against a wall or on a small bathroom countertop.
Pick a theme to decorate your tray with, and be sure to use a variety of different sizes, shapes, materials and textures.
A tiered tray is almost never complete without a little bit of nature. Even if you're using the tray for storing essential items, it helps to have a small potted plant, flowers or garland of some kind.
Don't be afraid to stack things to add height. In fact, taller things will keep the eye moving and make the tray more interesting. You can even use small risers to make short items appear taller (like a small book or upside down bowl).
Here are a few of my favorite finds on Amazon…
This tiered metal tray is one of my favorite buys! The shape of it is a bit unusual being rectangular which is why I love it so much. It fits perfectly on my kitchen counter resting up against the backsplash. I use it for small bowls and plates that I use often as well as to display my favorite holiday dishes.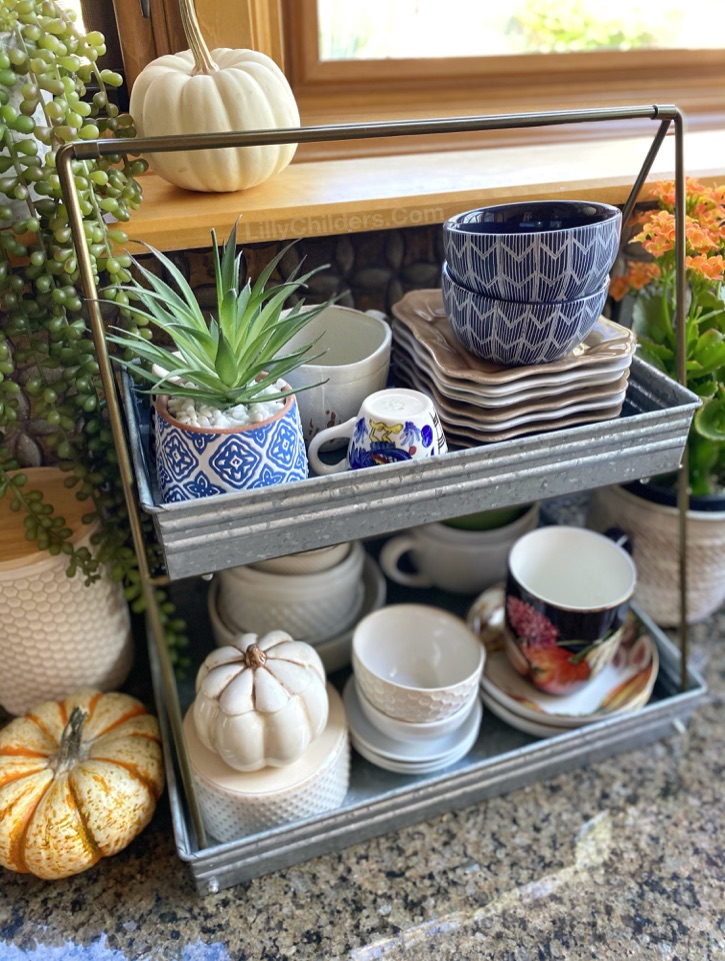 I'm also in love with this simple fruit basket I have on my kitchen island. I use it for fruit that needs to be ripened, potatoes as well as holiday pumpkins and garland, depending on the season.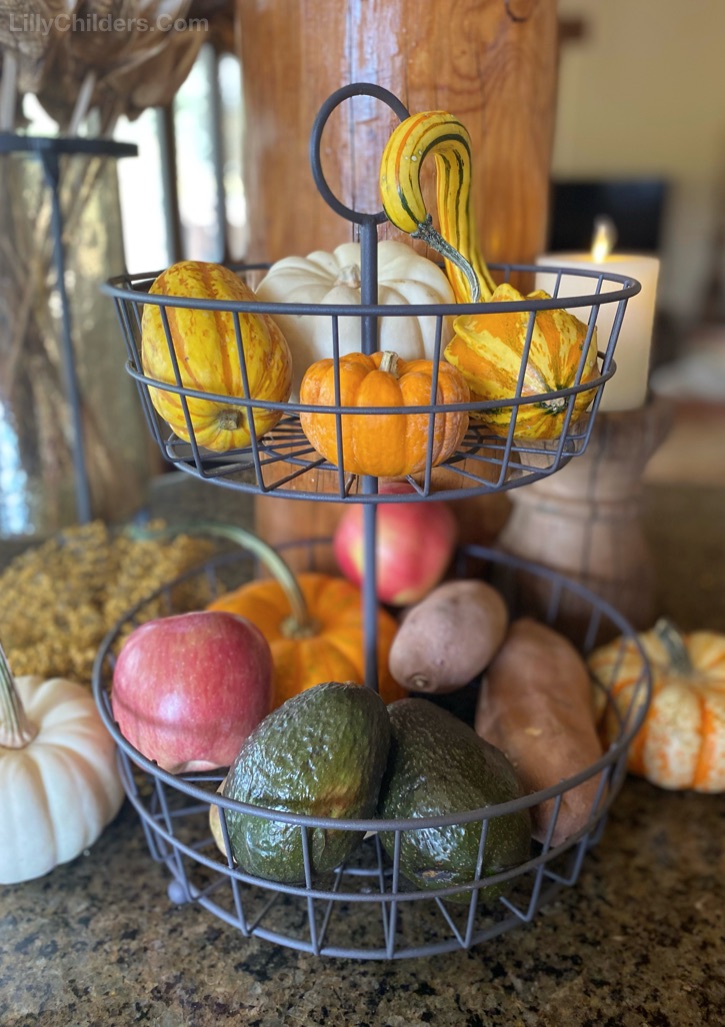 If you're looking for a tiered tray for your kitchen, this wooden one with a lazy suzan on the bottom is brilliant! I would use it for spices, tea bags, coffee and other small things that get used regularly.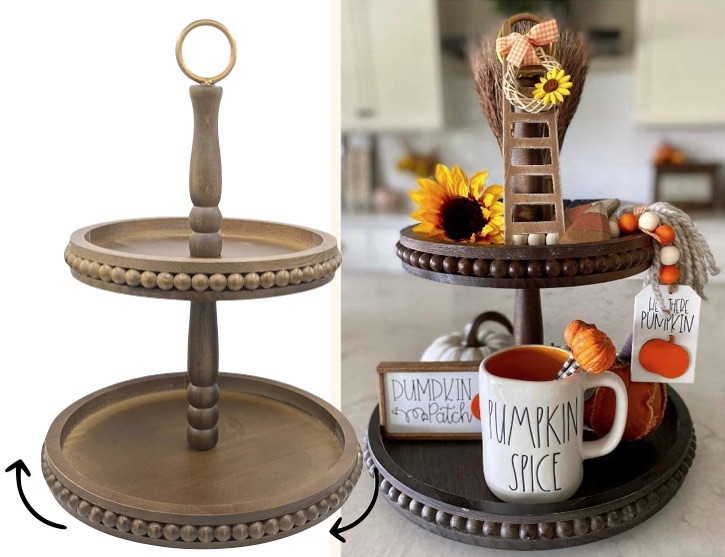 This small wooden turntable would also work well in the kitchen or pantry for spices and such, and isn't quite so decorative if you want something more practical.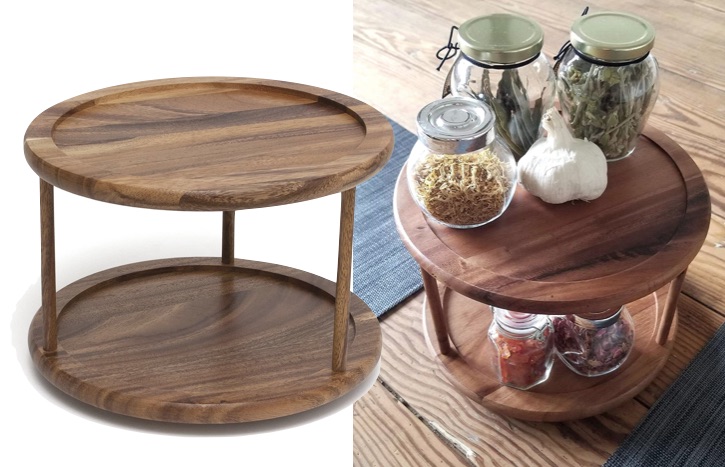 I have the two tiered tray shown below in my guest bathroom and it's absolutely perfect for storing a box of tissue, hand towels and small bottles of lotion. I'm also really digging the white metal tray to the right for the same purpose.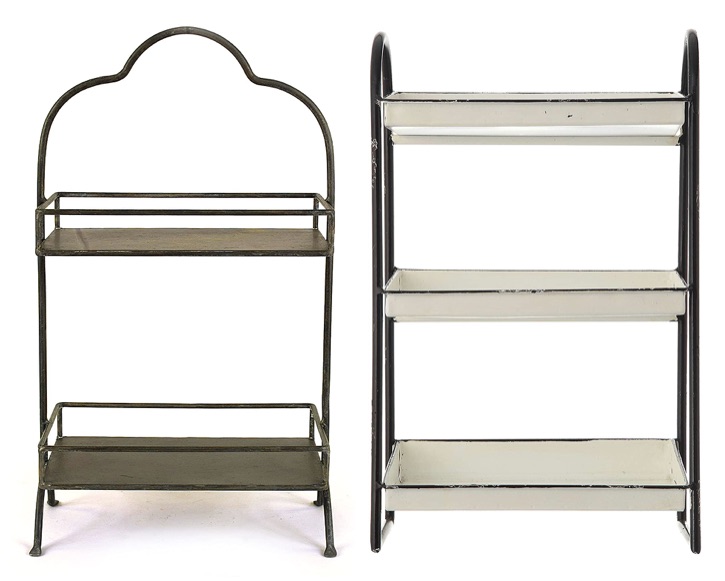 This clever tissue box cover has an added shelf for storing your bathroom essentials! One of those "why didn't I think of that?" inventions. It certainly helps utilize your unused air space.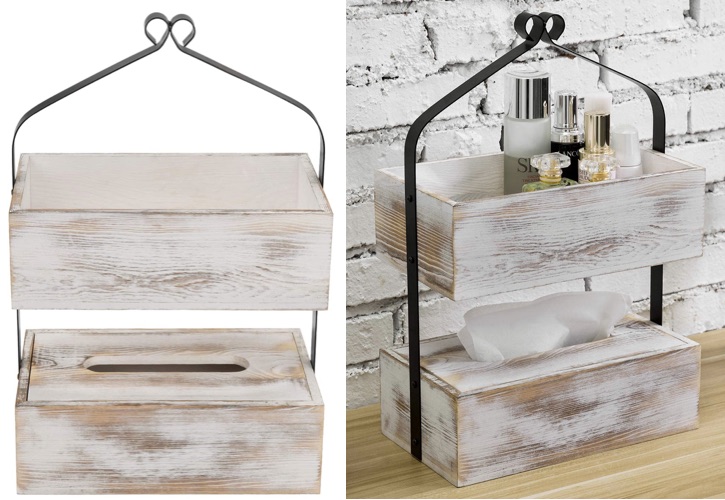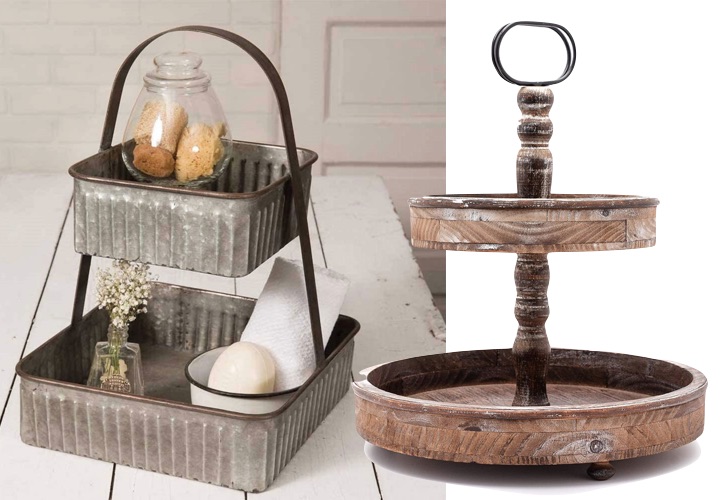 The two stands below are gorgeous for a kitchen island that needs a little sprucing up. I suppose they could also be used for their intended purpose as a serving tray, too. Hehe.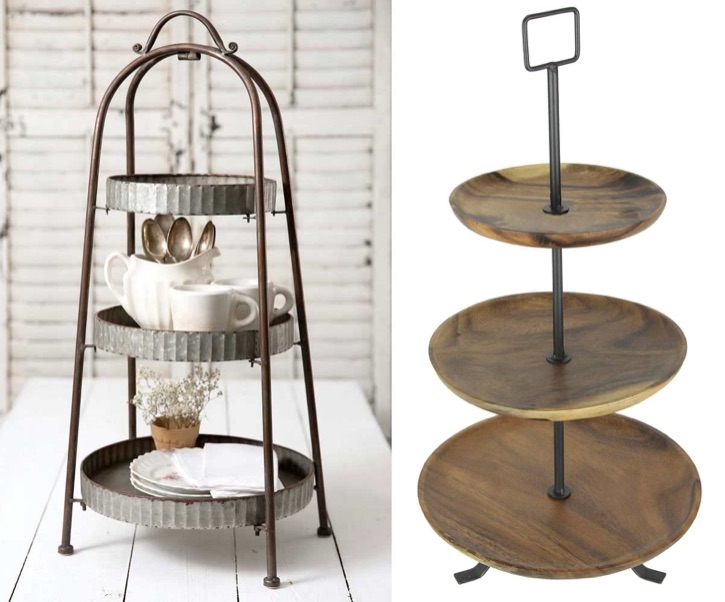 I adore the look of the galvanized metal. These stands have a chic farmhouse feel to them, especially when adorned with a few small potted plants. These would be nice on an entry table or even outdoor patio.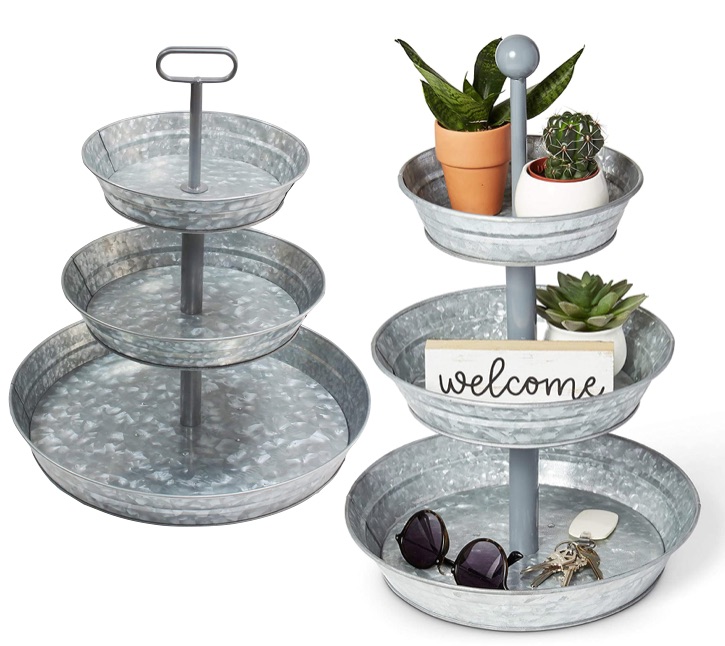 You can't go wrong with the rustic combination of wood and metal, and the tiered tray below is one of my favorites. It's perfect used as a decoration on an entry table, kitchen island or any empty corner of the home.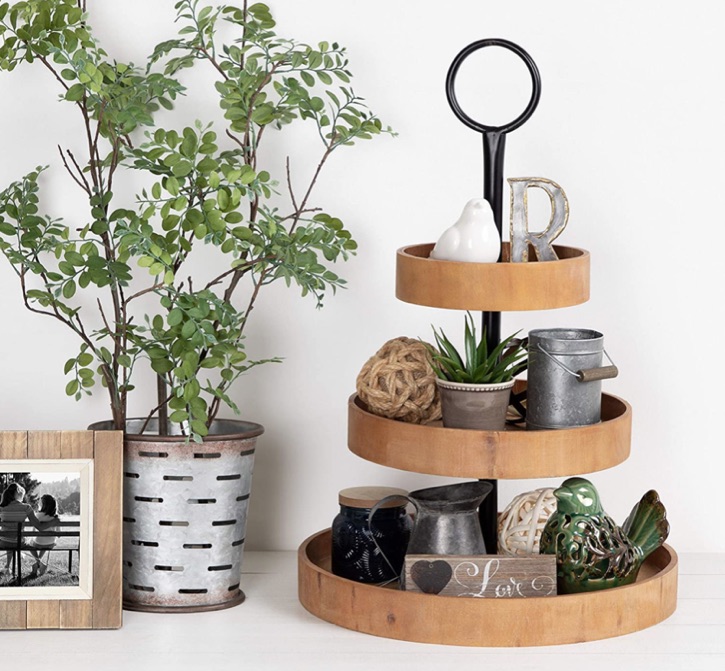 The distressed white tiered stand below is a good example of how you can decorate for the holidays. It would be fun to change it out for every season.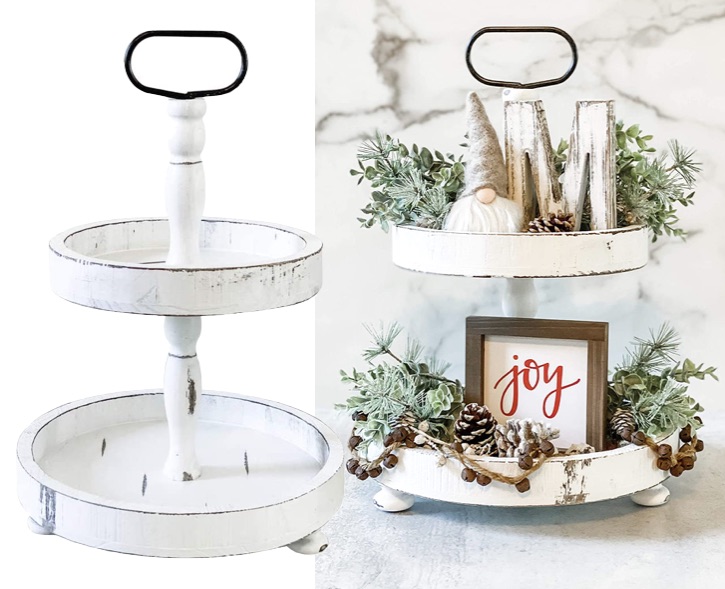 The two below are even more rustic with the exposed tree bark! They kind of have a spring/Easter vibe to them, and would look gorgeous for gatherings and parties to serve small treats like cupcakes.