If you're looking for easy fall craft ideas for adults, this gorgeous project will soon be a regular part of your Autumn home decor. You simply cover a glass jar with lots of colorful leaves and glue! It looks colorful and pretty during the day, but just wait until you throw in a candle.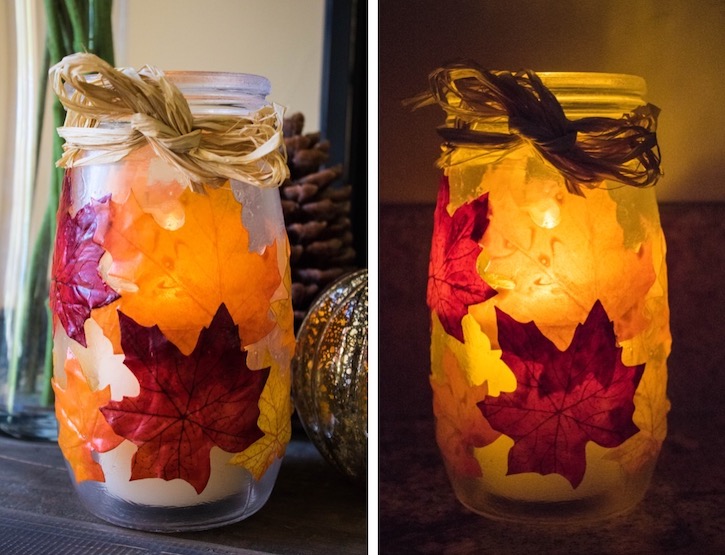 Fall is my favorite time of year, and it's not just for the pumpkin spice lattes. I've always enjoyed decorating my home with fall colors, plush blankets, and lots of candles. I also appreciate a good craft! But not a typical project that ends up in the garbage. This DIY tea light candle holder is something I've actually been proud enough to display over the years on my entry table. It would also make for a beautiful table centerpiece at Thanksgiving or as part of your Halloween decor.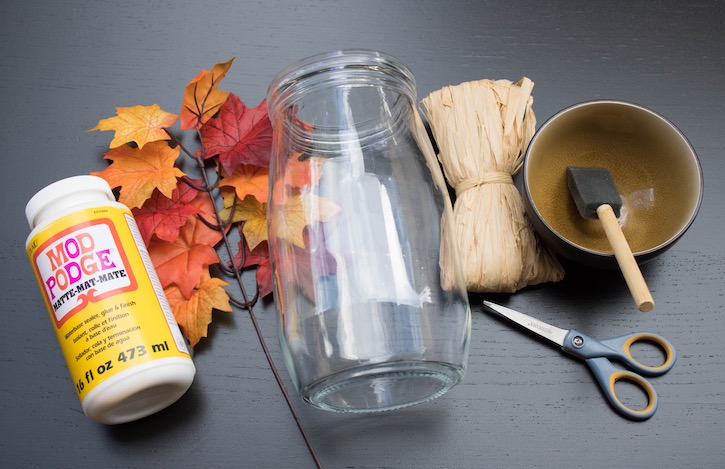 Supplies Needed
Any glass jar or container without ridges or writing
Several fall leaves (I used thin faux leaves that I removed from some garland I already had, but real leaves would probably work even better. I live in Arizona, so there aren't too many of those around!)
Matte Mod Podge
Sponge brush
Optional rafia, twine or ribbon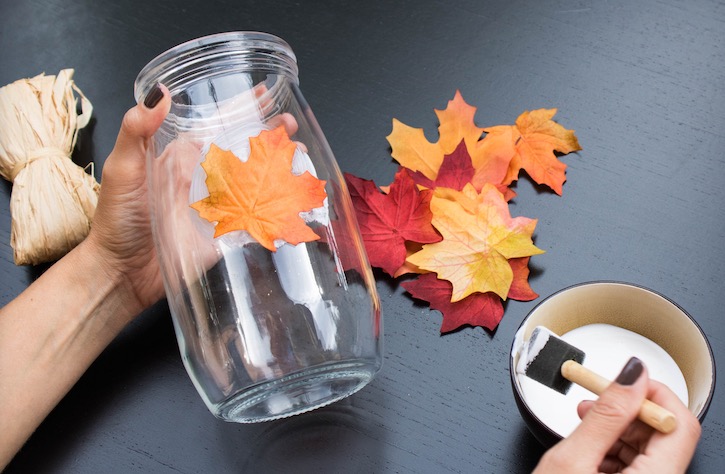 Step One
You're going to need to dip your sponge brush in the Mod Podge so I'd recommend pouring about 1/2 cup into a small disposable bowl. You may need more or less depending on the size of your glass container.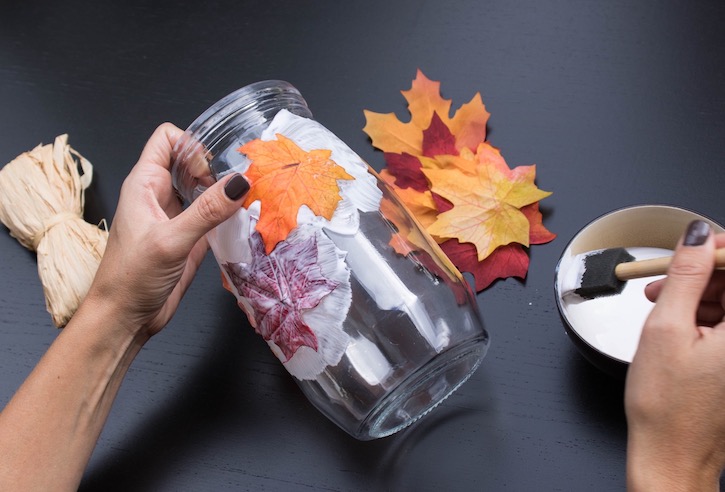 Step Two
Attach one leaf at a time to the jar using a generous amount of Mod Podge, both under and over each leaf. The glue becomes stickier as it dries, so after applying several of them, I found it best to allow the Mod Podge to dry for a few minutes before placing the leaves on. This takes patience, but they adhere much better and don't slide around as much!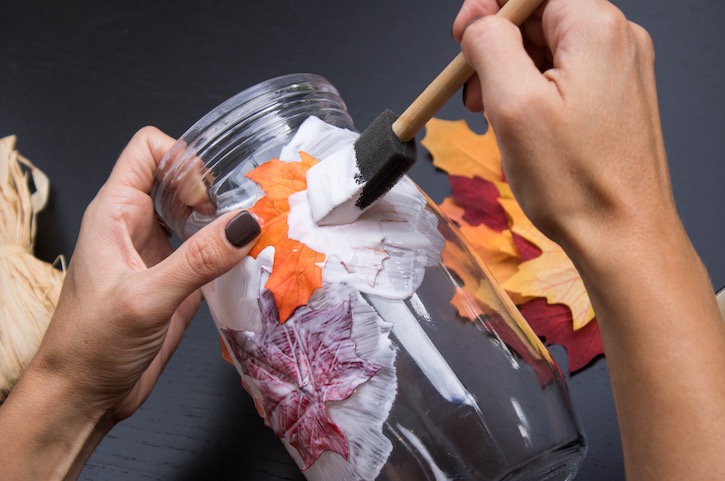 Step Three
I think it looks best to slightly overlap your leaves as well as apply them facing in different directions. It gets a little messy, but that's the fun part.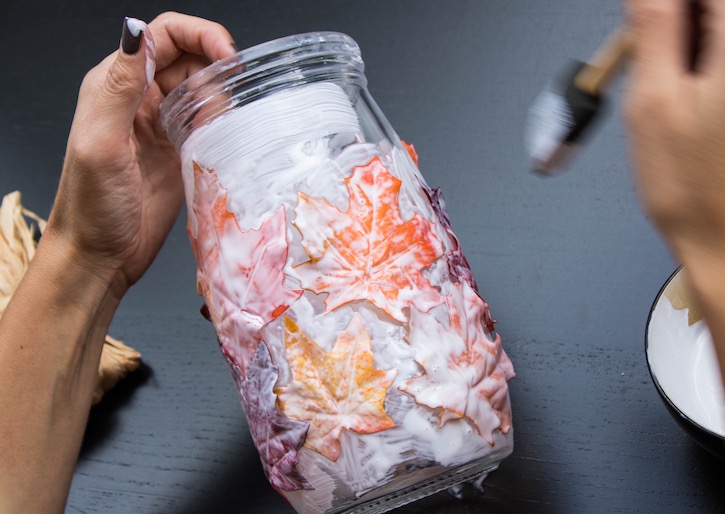 Step Four
Allow the Mod Podge to dry for at least two hours. As you can see, it doesn't look too pretty when it's wet, but trust the process!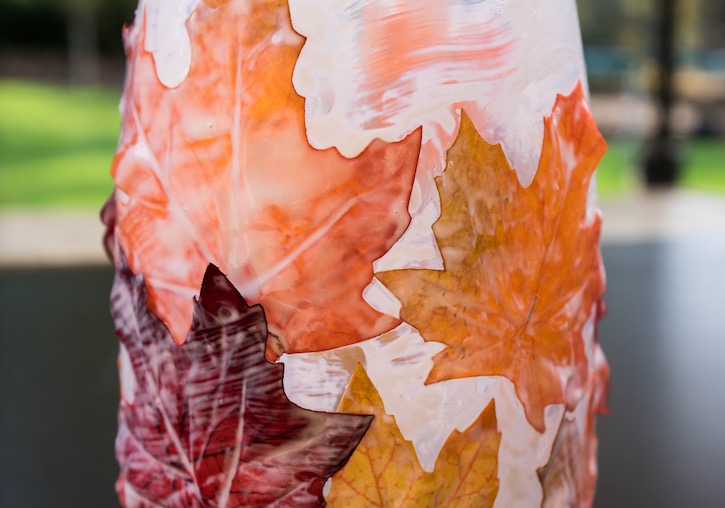 Step Five
Once the glue is completely dry to the touch, you can optionally tie on a little raffia, twine or ribbon to the top of the jar.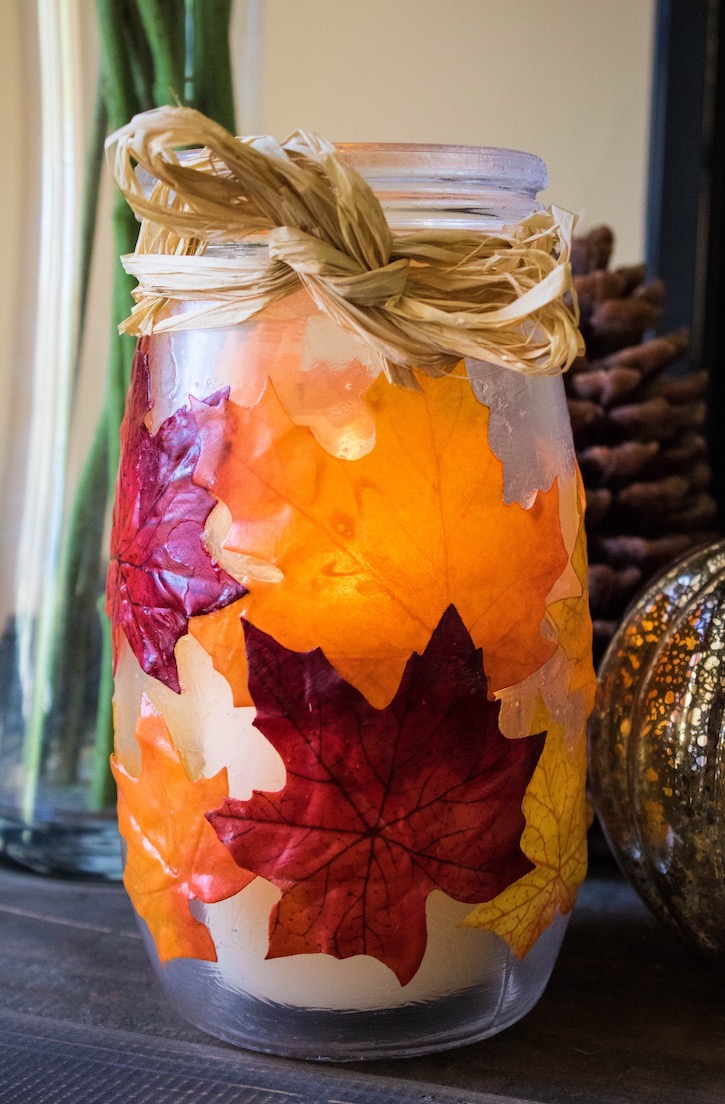 Step Six
Add a candle and watch the magic happen! I used a fake candle because that's what I had on hand, but I think it's probably a good idea if you have raffia tied to the top to prevent it from catching on fire. You could also use battery operated mini fairy lights or tea lights.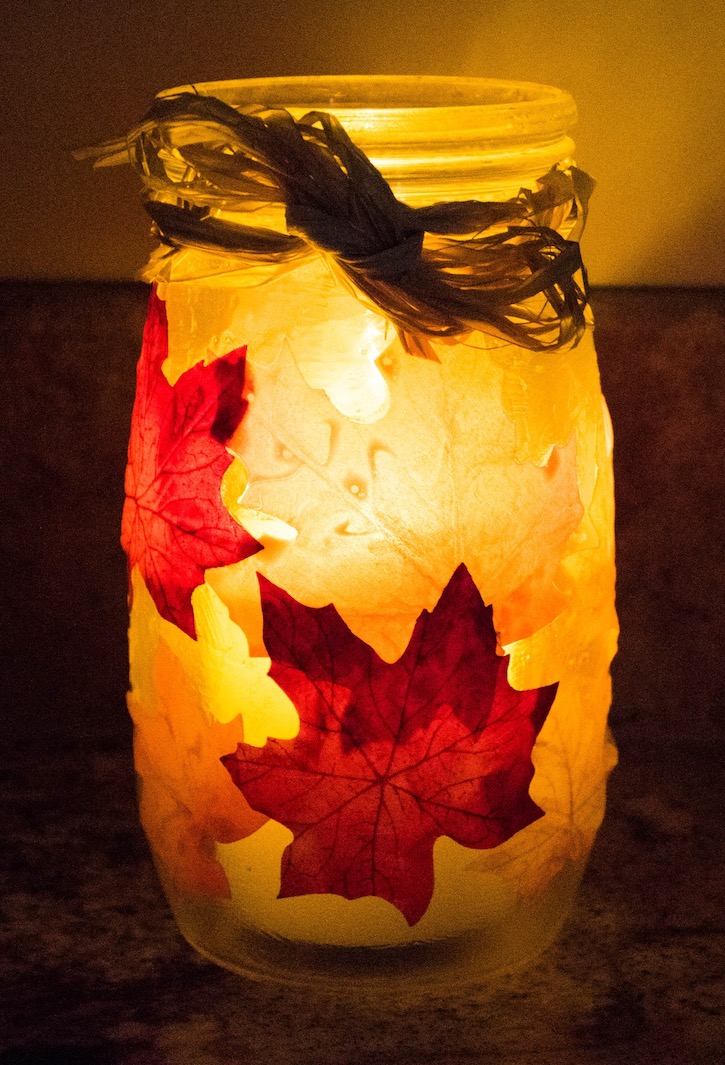 Helpful Tips
You could also use dried flowers, book pages, sheet music, or paper print-outs for this project. Your printer makes the possibilities endless! You could print photos, quotes, cute animals, or any sort of graphic.
If you're using real leaves, make sure they are not wet, especially if you've been out collecting on a rainy day.
If your leaves are curved or lumpy, you can place them in-between the pages of a book for a bit to flatten them out.
Looking for homemade gift ideas? Fill the jar with small goodies such as candy or cookies. You could make several small jars and give them away for the holidays to family, friends and neighbors.
This homemade fall themed jar could also be used as a vase or utensil holder! I think it looks just as attractive during the day without the candle.
You can find mason jars on Amazon without any writing in multiple sizes. It's nice having the lid option if you plan on making a few of these for gifts.