If you're looking for craft table ideas, I recently stumbled across a kitchen island from Ikea that works perfectly as a work station in my office. My husband and I initially went to Ikea in search of some sort of craft table hack that we could make out of a table top and a few shelving units, and found this beauty instead. It's called the Vadholma Kitchen Island. They currently also have another similar island called Tornviken and it's available in both white and gray. Yay!
Vadholma Kitchen Island From Ikea
There is definitely room for 2 chairs, however it's a bit tight if you plan on getting up and down a lot, so I'd recommend small counter height stools if this table will be shared. I use it for crafts and projects, but I think it would also be perfect as a homework station for kids.
This isn't exactly what I would call an "Ikea hack" because we didn't have to assemble random parts, but I never would have thought a kitchen island could work so well as a craft table.
My crafty little table here put me in the hole about $450 bucks, which is a lot more expensive than something I could have hacked with a cheaper table top and base from Ikea, but it's totally worth it.
I love the variation in the grain of the table top, and it's a nice contrast to the dark color of the base. I didn't want the typical white craft table because it didn't seem like it would fit my space very well with all of the dark built-in cabinets. This one has the perfect rustic feel to it that I haven't been able to find anywhere else.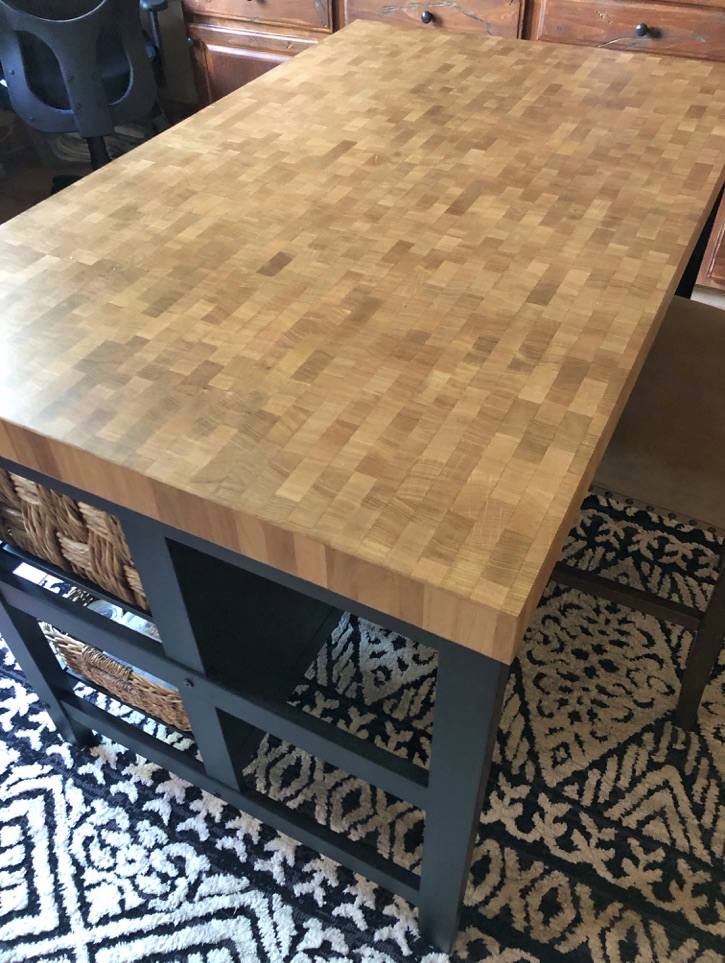 This work station table just happens to be the perfect height for both standing and sitting, and has a ton of storage on one side for craft supplies! Baskets seem to work perfectly to keep everything organized and hidden on the shelves, just make sure they aren't any taller than 10 inches. The two tallest baskets I have under there I purchased from the Container Store and are roughly 9 inches tall.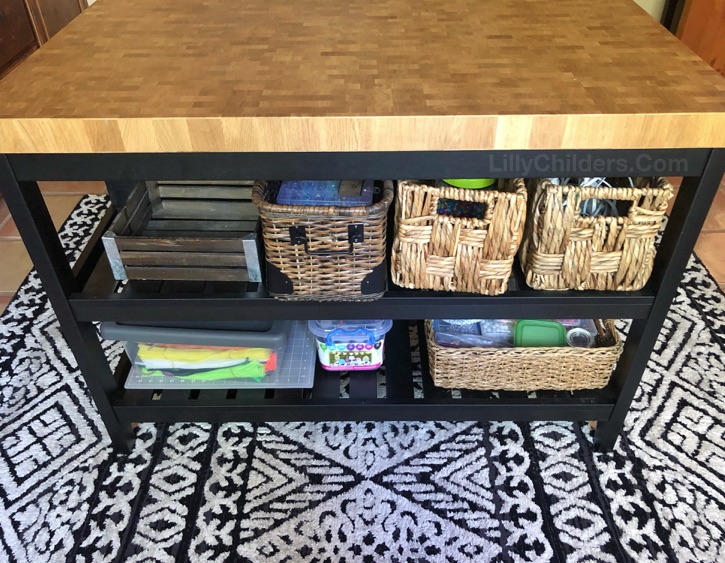 Just like everything else at Ikea, these kitchen islands do require some assembly but it was super easy, mostly because my husband did all of the work while I drank a glass of wine.